Wood pallets have been a logistic solution used by the manufacturing industry to secure and optimize merchandise transportation.
Nowadays the wood pallets manufacturing depends on the necessities or immediate specifications of any industrial sector, that is, the type and quantity of the load they transport, as well as their storage installations.
The wood pallets made with raw material may present a future higher cost. As a result, packaging and logistics companies have chosen to help reduce the consumer's costs giving added value in the manufacturing when elaborating Hybrid Wood pallets, that by its composition and materials are more accessible.
A hybrid wooden pallet is designed to increase company profitability. This product is named hybrid because it is manufactured with new and recycled materials, giving the same functionality and resistance for merchandise storage.
The raw material quality and the useful life of a hybrid pallet allows substantial savings that, combined with an efficient storage system, manages to cover a high demand in the manufacturing market.
Market Benefits of hybrid wood pallets.
The hybrid wood pallets in ICS Packaging & Logistics arise from the actual shortage of used pallets. By combining new and recycled materials, hybrid pallets are increasingly used within the manufacturing industry, thanks to the benefits they contribute. Among the most prominent we can mention that: 
They represent a substantial saving at the moment they get to their useful life.
The materials can be recycled for other applications.
They allow a quick dismantling for better storage and structure modifications.
High resistance to merchandise transportation.
They have a very long useful life.
They decrease operating costs by avoiding the expense of new pallets.
---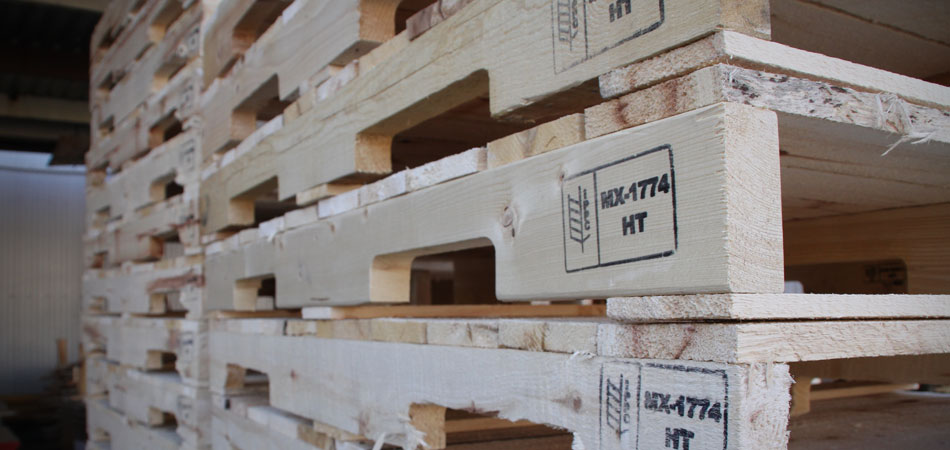 Process of recollection and fabrication of raw material for hybrid wood pallets.
One of the incorporated services in ICS Packaging & Logistics is recycled wood pallets recollection, that later through logistics systems, the materials are transferred to our warehouses to be dismantled. 
Once they are dismantled, the pieces are stored so they can be combined with totally new materials and later assemble hybrid wood pallets according to each client's requirements. This makes it possible to manufacture more wood pallets starting from the previous combination of materials.
We make sure that everything is manufactured under the specifications, keeping every wood pallet free of risks and hassle-free for logistics or product transportation.
Challenges of providing hybrid wooden pallets to the Mexican market.
In Mexico, the management of recycled wooden pallets is a very competitive market, where in most cases there is a shortage of used materials. It is therefore that offering a solution among new wood pallets and recycled ones, has opened doors to wider markets in global consumer products industries, such as:
Medical
Electronic
Automotive
Agro-industrial
Aerospacial
---
The supply of wood pallets for the transportation of these products is an important challenge to achieve. ICS Packaging & Logistics builds hybrid wood pallets with high-quality materials and carries out the high demand of these industries. 
The recovered material recollection process, handling, and storing have been the key to have raw material that guarantees cost reduction without losing quality and resistance.
ICS Packaging & Logistics: Added Value for the industry with Hybrid Pallets usage.
For the manufacturing industry, finding a product that generates value-added from short to the long term, is a challenge to achieve. While it's true that you must invest in pallet purchases, hybrid wooden pallets do not represent an elevated cost compared to acquiring them as a new purchase.
In ICS Packaging & Logistics we have a very wide vision with a high level of capacity to cover any necessity, diminishing the operating costs of companies. This reflects the packaging we offer and the quality service to our clients. 
Since 2001, we have been direct suppliers for the border market and we count on services that ensure efficient deliveries and cover emergencies in purchase orders with a solid and competitive way for the industrial sector.
We provide hybrid wood pallets up to a full and secure logistic service for merchandise deliveries. ICS Packaging & Logistics serves the regions of Chihuahua, Juarez, Monterrey, and El Paso, Tx with a big sense of commitment and responsibility. 
As a privately local company, we can respond quickly to our customers' emergencies. Let us be your local packaging manufacturer.